Identify Your Market/Farm Area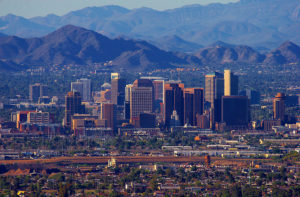 Your market/farm area identifies you as a specialist in a specific area. It is OK to say you are available to serve your clients anywhere in the Phoenix metro area, although any agent can do that. Being a specialist in a specific area sets you apart regardless of how long you have been a REALTOR® and allows you to provide direct value to the specific needs of your client. A farm area of an entire city is generally too large. Identify a subdivision or community that can be mapped. Now do your due diligence and research the market data for the area, historically and current. Utilizing RPR from our MLS is a great source to identify market trends, the number of homes on the market and average days on the market. Preview new listings as they are posted (which is a regular activity), attend HOA meetings, know the schools, hospitals, fire, police and major employers.
As a specialist in a specific area, you will now be marketing yourself to that area. You need to present yourself through multiple channels. Regular mailers are required at least once a quarter. Ask your title company's marketing department for lists and sponsorship opportunities (mortgage lenders also love to help sponsor your marketing materials). All materials need your picture on it because when you attend the HOA or school meetings, you will be identified as that REALTOR®.
Always call the listing agent in advance when previewing new listings. If you meet the owners, be sure they understand that you are previewing for your buyer clients and as a specialist for that community. Never suggest or leave an impression that you could list the property if it is already listed. Previewing gives you valuable first-hand knowledge of available properties. Owners will also tend to share info about the community that only a resident would know. BTW. You do not have to be a resident of your market/farm area to be a specialist.
When doing open houses in your market area, door knock the block and introduce yourself as the listing agent and invite them to a neighbors only pre-open house, perhaps on a Friday evening. At the event, be sure to work the crowd that you are looking for buyer referrals. The property's neighbors are actually stakeholders of who the new buyer could be and many times would prefer to have a friend or relative as a neighbor than a stranger.
Another agent may already be marketing to your chosen market area. Be aware of competing agents, never put down your competition in front of customers/clients (it is very unprofessional) and know you will eventually be working with this agent in the course of a transaction. Your job is to out-market them, be more visible and present yourself as the real specialist for your market/farm area.
Eric Gallagher- Master Coach
West USA Realty