2016 Greater Phoenix Metro Housing Market Forecast
by Todd Menard

Housing sales in 2015 reached double digit levels (+10.1%) as we forecasted last December amidst certain stigmatizing factors such as low inventory levels and the resulting increase in home prices. This noted the first time unit sales has increased in the previous 5 years. Previous year's growth was the sole result of double digit price increases as the market began to recover which caused an increase in dollar volume while unit sales either declined or remained the same.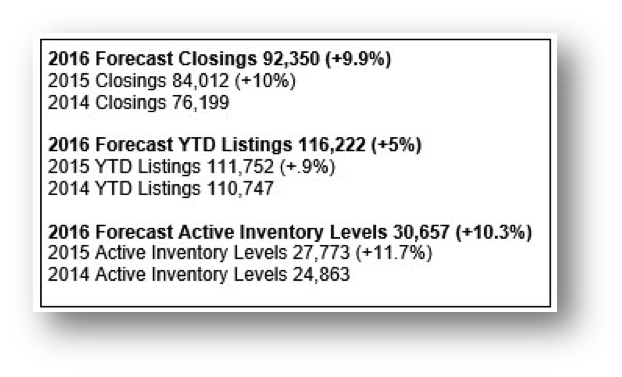 Price appreciation for 2016 will be in the low to mid-single digits likely hovering around 3.5% - 4.5%, lower than the 5.8% in 2015, and the 8% gains in 2014. Arizona's housing market throughout the late 90's and early 2000's thrived on a 4.5% appreciation, so REALTORS® should view this as a positive sign of a more stable housing market.
Housing starts (permits) are set for solid growth. New Home Construction in 2015 met the needs of buyers who found it difficult to compete with limited selection, multiple offers and cash buyers. Building permits were up 17.8% in 2015 over a year ago and are forecast to increase an additional 11.4% in 2016. "REALTORS® must inform buyer about the value proposition with new homes, and buyers not interested in waiting for the construction time should consider a spec home", said Jimmy Johnsen, West USA's New Home Division Director.
Existing-home sales are projected to increase in 2016 (+9%), ongoing inventory shortages and affordability pressures from rising prices and mortgage interest rates will likely cause impotence on potential sales growth. Simply put, we need more inventory to help stabilize the prices and provide more selection to attract and entice more buyers off the fence. Closed resale homes under $500K were on the market an average of 66 days (includes escrow) and represented over 77% of the total inventory. Closed resale homes above $501K-999K posted 97 day averages. Prices in excess of $1M continue to suffer with over 200 days on market. The average 4.1 months supply throughout 2015 meant we were in a neutral market (seller's market under 4 and Buyer's market over 6 months supply) however the market showed an average 96% List Price to Sales Price Retention (LP:SP). This means sellers reduced their prices an average of 4% not including any concessions indicated on page 2 of the AAR Resale Purchase Contract.
Lynn Fisher, MBA's Vice President of Research and Economics says "Improving employment markets will build on major demographic trends, including maturing of Baby Boomers, Hispanics and Millennials". This means REALTORS® should become more aware of how cultural diversity affects buyer's decisions, and should also reach out to groups such as HAREP, AREAA, and the REBA. There is definitely pent up demand as identified in different demographics. The changing marriage demographics from 2008 to today have also contributed to growth since the average male now gets married at age 29 versus 22, and the average female at 28 versus 21 respectively and, 1.5 million additional 25-34 year olds live with parents. This puts addition pressure for rentals and affordability of single family homes.
Mortgage interest rates will begin to increase as low rates of returns prevent money from flowing into the market. This same situation is stigmatizing the growth of small businesses, and an anchor for job growth. In the last quarter of 2015 we experienced the loosening of credit guidelines, including but not limited to recalculation methods for student loan debt, the allowance of rental income to offset rental debt, allowing buyers to include room rental income, including live-in parents and extended family members, Home in 5 modifications, lowered requirements credit scores, etc. Anticipate that interest rates will continue to rise, and expect the credit guidelines to fluctuate in direct response to those hindrances affecting buyer's ability to qualify.
One last thought. History indicates that an election year typically has an impact of economic growth, the introduction of new bills promoting small business growth, and lower than expected interest rates and gas prices. How will this affect the forecasts for the housing market? Only time will tell.
Live life on purpose and make sure everything you do brings you closer to your desired goals and dreams.
Todd Menard is Operations Officer for West USA Realty, Inc. the Nation's 21st largest production real estate company (RisMedia). In the past two years, under the Fouts/Menard regime, West USA Realty, Inc. has achieved an 87% growth making it one of the industry's fastest growing real estate brokerages. To learn more about Todd Menard or West USA Realty, Inc. please visit toddcmenard.com and joinwestusa.com